The 4oth edition of the Canadian Pool & Spa Conference & Expo will take place:
February 7 – 10, 2022 at the Scotiabank Convention Centre, Niagara Falls
Expo: Wednesday, February 9 & Thursday, February 10, 2022
Now more than ever, we know plans can change, so our preferred hotel is offering flexible booking policies.
Feel comfortable in planning ahead and knowing you can change or cancel plans later.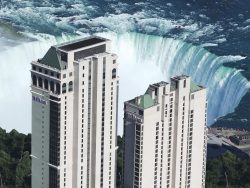 CLICK HERE: to book your stay today
Hotel Travel Guidelines
Local government rules for this hotel require proof of vaccination to access certain on-site amenities including dining and fitness facilities. Please check the evolving health and safety requirements in effect where the hotel is located for specific rules and exceptions before traveling. We are committed to providing you a safe and relaxing hotel stay: for information about our initiatives related to COVID, please visit covid.hilton.com.